Enter one of my absolute favorite veggies – ZUCCHINI!!! (applause in head)
Zucchini rounds my ultimate veggie trifecta — what is my veggie trifecta? Eggplant, squash and ZUCCHINI!
As you can imagine I was super excited  when I came across this article —– Hello zucchini bread smoothie and 15-Minute Zucchini Beef Skillet.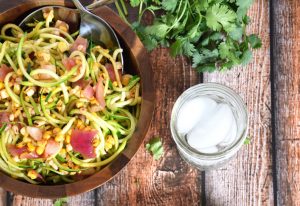 Skimming through them – I can say many are low carb since they use zucchini in place of other ingredients such as pasta. Others can easily be made low carb such as the zucchini bread smoothie I mentioned above. I will let you know when I try one!
xxoo Eva